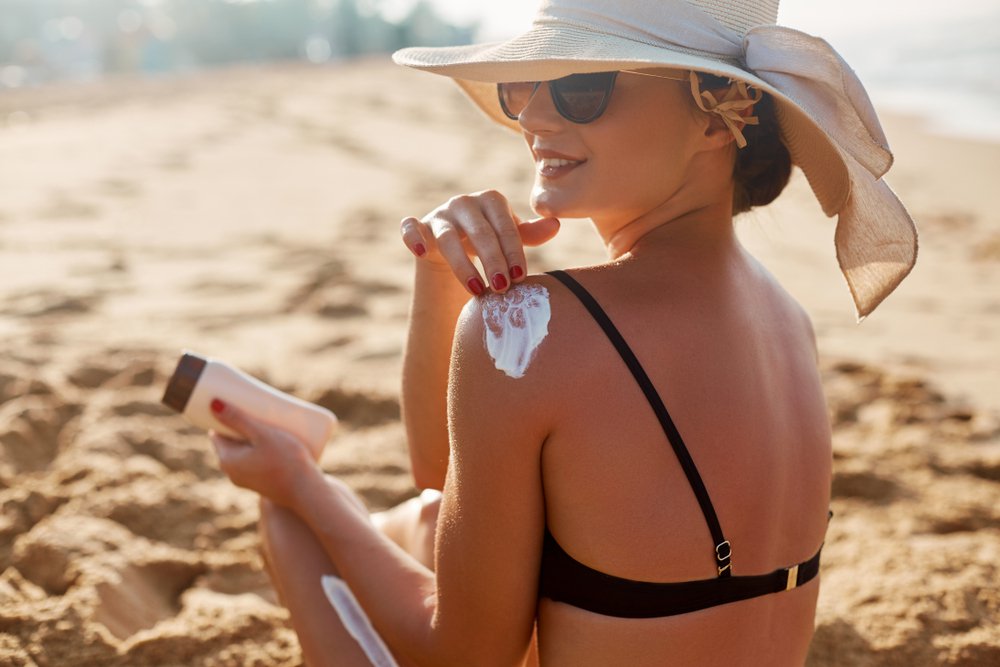 It's out with the old and in with the new. A change in season means making necessary changes to your skincare routine. While summer is a time to enjoy warmer weather and sunnier days, it is also a time to implement new skincare habits that will protect your skin and maintain its radiant glow. Here are four tips you can add to your summer skincare list that will keep your skin happy and healthy all summer long.
1. Use a Lighter Moisturizer
That's right. You can finally say goodbye to the heavy creams and thick lotions that kept your skin hydrated during those dry winter months. The summer heat and humidity call for a lighter moisturizer that won't add excess oil to your skin or clog your pores. As the temperature increases, so does the activity of sebaceous glands. Sebaceous glands are oil-secreting glands found in your skin. Your t-zone (forehead, nose, and chin) is known to have the largest concentration of sebaceous glands. Increased productivity of these glands can lead to oily skin and cause acne.
2. Don't Forget SPF
While tan skin is a popular summer look, skin damage isn't. Did you know that 20% of Americans(opens in a new tab) will develop skin cancer in their lifetime? Avoid sunburn, skin cancer, and premature aging of the skin by applying sunscreen with a broad ultraviolet spectrum. Dermatologists recommend sunscreen with an SPF between 30-50. Depending on how long you spend soaking up those summer rays, reapply sunscreen every two to three hours. Make sure you cover the obvious spots like your face, arms, and legs, and do not forget about your hands, feet, and ears.
3. Keep Your Skin (& Yourself) Hydrated
Hydrate to feel great… and to have great skin! Did you know that by drinking water you are not only keeping your body hydrated, but you are helping to maintain your skin's elasticity? Drinking large amounts of water throughout the day decreases your chances of suffering from scars, and signs of aging. Keeping your skin hydrated also helps prevent clogged pores, which can cause severe pimples and acne.
Are you looking for more ways to keep your skin hydrated this summer? At PURE Medi-Spa, we offer several facial rejuvenation services, including Hydrafacials. Hydrafacials use patented technology to cleanse, extract, and hydrate your skin. With just three steps and a variety of nourishing ingredients, our Hydrafacials can benefit all of the following skincare needs:
Fine lines/wrinkles
Elasticity/firmness
Even tone/vibrancy
Skin texture
Brown spots
Oily/congested skin
Enlarged pores
If you are looking for a way to relax after a long work day while also taking care of your skin, schedule your Hydrafacial today!
4. Exfoliate for that Summer Glow
If you are looking to achieve that radiant summer glow, here's how you can do it: exfoliation removes dead skin cells, bacteria, and debris to reveal fresh, clean skin. Not only does this process prevent clogged pores and acne, but it allows other skin products such as moisturizers and toners to produce more effective results for your skin. Add exfoliation to your skin routine in the morning, and follow with a light moisturizer and SPF.
I scream, you scream, we all scream for… skincare! Our basic exfoliating facial is the ultimate deep cleansing facial. Not only will it cleanse and exfoliate your skin, but it will extract any bacteria and debris present on your face, leaving behind healthy, glowing skin. Come try our basic exfoliating facial offered at PURE Medi-spa and bring your son or daughter as well. We offer both adult and child facials for children ages 12-17.
Looking for more ways you can keep your skin healthy this summer? PURE Medispa offers services ranging from dermaplaning to chemical peels to restore your skin's youthful and radiant glow. Dr. Scott Mckenna, MD and his highly experienced team of medical estheticians specialize in professional treatment options to help you feel and look your best. Schedule your free consultation online or call us at (570)-941-8460 for more information.