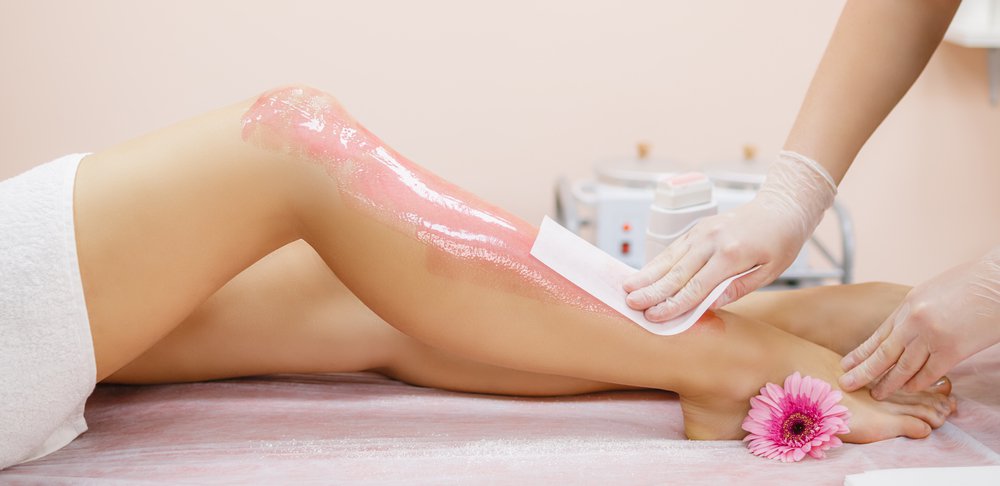 Different Types of Waxing
Waxing is a hair removal process that pulls hair directly from its roots, providing a temporary smoothing of the skin. The process begins by applying warm wax to the skin and quickly removing the wax once it has cooled and hardened. There are two different types of wax that can be used: soft and hard wax. 
Soft wax- This wax is made with substances such as rosin, oils, and other additives. After soft wax is applied to the skin, a wax strip is placed on top to remove the wax and hair against the direction of hair growth. 
Hard wax- Unlike soft wax, hard wax hardens over hair follicles without sticking to your skin as it cools. Hard wax can be removed without the use of wax removal strips, and it is made from substances such as beeswax, resin, and oils. 
What Are the Benefits of Waxing? 
Are you wondering if waxing is the right option for you? Here are some benefits of waxing that make this hair removal method a great option if you are looking for quick, effective solutions: 
Provides light exfoliation- Waxing not only removes hair, but it can also remove dead skin cells on the top layer of your skin to reveal softer skin. 
Slower regrowth- While shaving results typically last around 3-7 days, waxing results last around 3-4 weeks. 
Less irritating than hair-removal creams- Hair bleaching creams are messy and can cause skin irritation. Waxing is efficient and allows for immediate hair removal and smooth results. 
More efficient- Are you tired of having to constantly use tweezers to remove facial hair? Facial waxing benefits include spending less time in front of the mirror plucking, and more time enjoying smoother skin for a longer period of time. If you are looking for facial waxing near you, PURE MediSpa offers a variety of waxing services. 
What to Expect at Your First Appointment with Scranton's #1 MediSpa
If this is your first waxing appointment, do not worry. Here are the simple steps that you can expect during your session:
One of our experienced medical estheticians will begin by cleaning the waxing area and apply a pre-wax treatment.
A sanitized application tool will be used to apply wax in the same direction as your hair growth.
If soft wax is applied, the esthetician will use a wax strip to remove the wax. If hard wax is used, the hard wax itself will be removed.
After the waxing process is complete, the esthetician will apply a lotion or serum to soothe the freshly waxed skin. 
PURE Medispa Waxing Services: Facial Waxing, Eyebrow Waxing & More
The waxing services at PURE MediSpa offer a variety of facial rejuvenation treatments. From facials to dermaplaning, our goal is to help you look and feel your best. Our highly experienced medical estheticians are here ensure the best results for the following waxing services:
Eyebrow
Upper lip
Chin
Legs (Half/ Full)
Under Arm 
How to Prepare for a Wax Appointment? 
If you've scheduled your wax appointment, you can follow this simple checklist to ensure you are ready for your session:
Avoid using retinol creams, peels, acid-type products, or other medications from your skincare routine a few days prior to your appointment- Why? These products can cause skin irritation that will disrupt the effectiveness of the waxing treatment and may result in a more painful hair removal process. 
Moisturize your skin the night before your appointment- Not only will this lead to softer skin, but it will also help keep hairs on your skin from breaking during your waxing appointment. Make sure to wash off moisturizers or makeup on the day of your appointment. 
Avoid the sun or tanning salons before your appointment- While it may be tempting as we enter warm Spring weather, sunburned skin cannot be waxed. 
At PURE MediSpa, we want you to look and feel good. That is why we offer a wide variety of esthetic services provided by our care team experts. Whether you are looking for facial rejuvenation treatment or facial waxing services during the Spring season, our team of licensed estheticians have got you covered. 
If you are looking for waxing services in Scranton, we've got you covered. Schedule an appointment at our office or call (570)-941-8460 for more information. We are located right off of 1-81 across from the Viewmont Mall. You can find our office between JoAnn Fabrics and Ocean State Job Lot.